SEO's landscape is complicated, and marketers get overwhelmed from time to time trying to increase organic traffic, boost conversions and eventually drive more ROI.
SEO software helps them in essential tasks such as keyword research, technical audit, competitor analysis and backlink tracking. These tools also help businesses collect data, and figure out algorithm updates and the latest industry trends.
SE Ranking is one such SEO software platform packed with useful features and can be rightly called an all-rounder tool suite.
SE Ranking entered the market in 2013 and soon garnered attention as a dynamic and extensive search engine optimization software. A group of experienced SEO experts and developers created it who understood the problems that businesses face in the ever-changing realm of online competition and search engine algorithms.
Fast forward to 2023, and thousands of entrepreneurs, successful brands and SEO professionals swear by SE Ranking. Its popularity is due to the intuitive interface, efficiency, and insight-backed method that helps users maximise their digital footprint and boost their SERP positions.
Join us as we review this outstanding software platform and discuss its pricing plans as of 2023. 
What is SE Ranking?
It is a cloud-powered SEO platform designed to help digital marketers, SEO experts, and site owners enhance search engine rankings and online visibility.
Search engine optimization software provides various features and analytics to assess, monitor and optimize sites to gain higher positions in search engine result pages (SERPs).
What is the Super Power of SE Ranking?
This tool is most popular for its rank tracking capabilities as its name also highlights the importance of search engine rankings. 
Page rankings have to do with keywords and tracking them is crucial to search engine optimization. Monitoring the appropriate group of search terms manually can get on your nerves. SE Ranking is one of the software that helps you stay sane while tracking keywords and their rankings.
Moreover, you can even track how your competition is performing and their SERP rankings and download the reports or generate them as PDFs.
Its keyword suggestion tool helps you increase your reach and possibilities. The number one perk of this software suite is that all the requisite tools for excellent SEO performance are in one place.
SE Ranking Review 2023
It has six featured tools:
1. Keyword Rank Tracker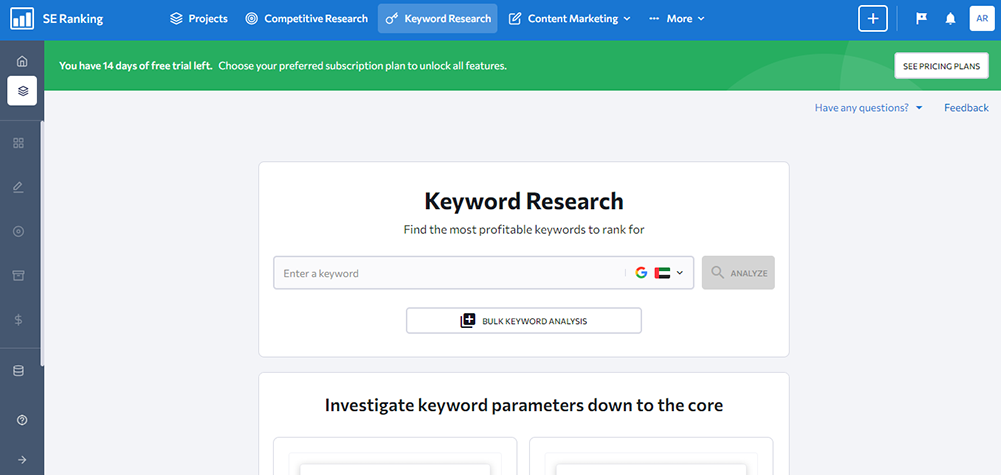 It offers in-depth information on your keyword positions with extreme precision across all major search platforms such as Bing, Google, Yahoo, and YouTube. 
Here is what it allows you to do:
Compare your and your competitors' keyword positions to get a bird's eye view

Identify which search terms drive the most visitors to your site

Pinpoint ranking decreases and avoid traffic loss by staying ahead of the game

Refine SEO tactics according to algorithm updates to avoid any potential negative impact of those updates

Spot pages targeting the same search term (keyword cannibalization) and prevent it

Evaluate site positions for a specific country or even a specific zip code

Recheck rankings whenever you want with 100% precise ranking information or view cached SERP copy 

Gain loads of metrics in addition to search term rankings and develop a data-backed tactic with an intuitive interface

Detect URLs that could earn top positions and enhance their Content Score using hacks offered by the Content Editor

Generate easy, digestible graphs and tables of keyword rank data to make informed business decisions 

View the number of visitors a search query could bring to your site

Add a maximum of five combinations of a search engine and location for each project

Evaluate paid rankings and Local Pack results at no additional fee

Monitor search terms by grouping and tagging them

See details of each competing site's key metrics

Highlight added competitors for monitored keywords

Assess any keyword position date range in Calender to weigh up your SERP standing

Integrate your Google search console, analytics, and GMB profile to your account to obtain even more SEO data points and guide your strategy with them

Read all major google analytics reports without changing interfaces

Share the access to your account on Keyword Rank Checker tagged with your business through your custom domain, offering a white label service to your clients

Its API offers admin area access to allow you to import all SEO data from the tool and use it for your aims

Make sub-accounts with various access levels to keyword rank insights and projects to collaborate with several partners and clients without the hassle
Pricing
Essential — $55.0/month: You can check 750 keywords daily and 22,500 keywords monthly for 100 locations.
Pro — $109.00/month: You can check 2000 to 3500 keywords daily and 60,000 keywords monthly for 100 locations.
Business — $239.00/month: You can check 5000 to 15000 keywords daily and 150,000 keywords monthly for 100 locations.
2. On-Page SEO Checker
This featured tool helps you determine the reason why your website isn't getting higher positions and solve them. It offers a Page SEO score that shows the page quality, with pages that fulfil certain standards and fall within the value range of higher-ranking links/URLs earning top scores.
It provides you with a list of tasks you can perform directly on a page to boost your visibility. Here is what it allows you to do:
Analyze parameters and page components that aid search platforms in understanding whether the content is helpful for readers and if they will have a nice page experience

Categorize problems depending on their significance and urgency into four groups: warnings, notices, errors, and those that don't demand action

Issue Report Category displays the existing and suggested figures for every metric, depending on a page's SEO factors concerning text content, consumer experience, metadata, etc

Fix suggestions and parameter comparisons offer you practical data on how you can enhance your landing pages to rank higher than your competitors

Obtain a data-powered plan for optimizing current pages

Create on-page tasks tailored to your needs for each target page and prioritize them as high, low, or medium based on how each may enhance the total quality score

Create categories that impact SERP positions like User experience, Text Content, Media, etc

Tag tasks with status — to do, ignore, done, that displays how your improvements are being applied
Pricing
Essential — $55.0/month: It allows checking 20 pages and 20 keywords for SERP analysis each month.
Pro — $109.00/month: It allows checking 30 to 40 pages and 100 to 200 keywords for SERP analysis each month.
Business — $239.00/month: It allows checking 100 to 300 pages and 1000 to 2000 keywords for SERP analysis each month.
3. Website Audit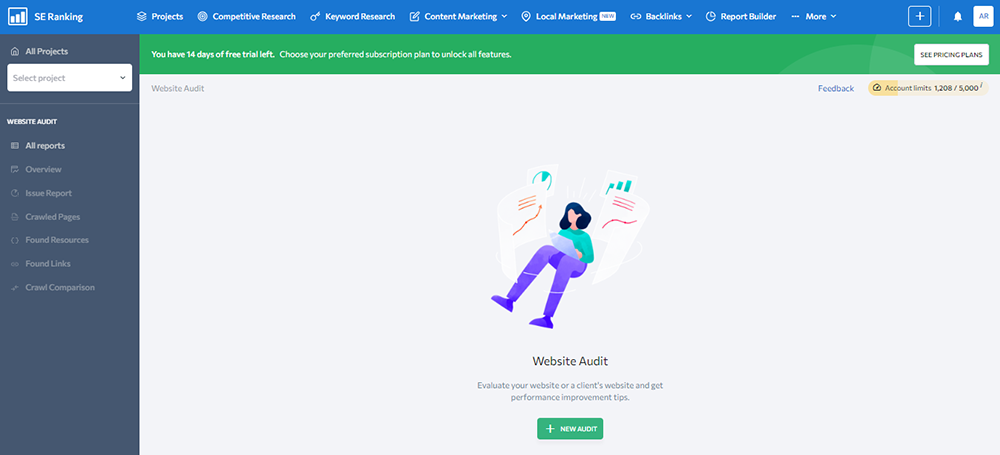 This tool can score your website in 2 minutes and offer advice on enhancing its performance. Here is what it allows you to do:
Shows the vital metrics in the form of performance graphs

Generates in-depth site audit reports for each issue, with super easy, rapid solutions

Crawl a maximum of 1000 pages in only two minutes and categorizes the results 

Compare website audit progress and send reports to colleagues

Customize settings, report metrics, and select the problems to track

XML sitemap generator pinpoints your pages to Google to crawl and index them

Figure out HTTP and HTTPS problems to secure your website

Tells how to make a site more usable and enhance its user experience

Helps you detect the correct language versions of your page, spot and troubleshoot hreflang and HTML lang issues

Ensure all your critical pages go back to the right status code for an improved user experience and SERP ranking
Pricing
Essential — $55.0/month: It offers website audits for 100,000 and 15,000 pages that you can analyze for one account and one project respectively.
Pro — $109.00/month: It offers website audits for 250,000 to 400,000 pages for one account and 40,000 to 50,000 pages for one project. It also allows using Page Changes Monitor for 100 to 175 pages. It identifies any modifications made to the pages you track and obtains automatic alerts and notifications about them whenever they happen.
Business — $239.00/month: It offers a website audit for 700,000 pages and includes all features of the Pro plan with extended limits. It also allows using Page Changes Monitor for 250 to 1000 pages.
4. Competitor Analysis Tool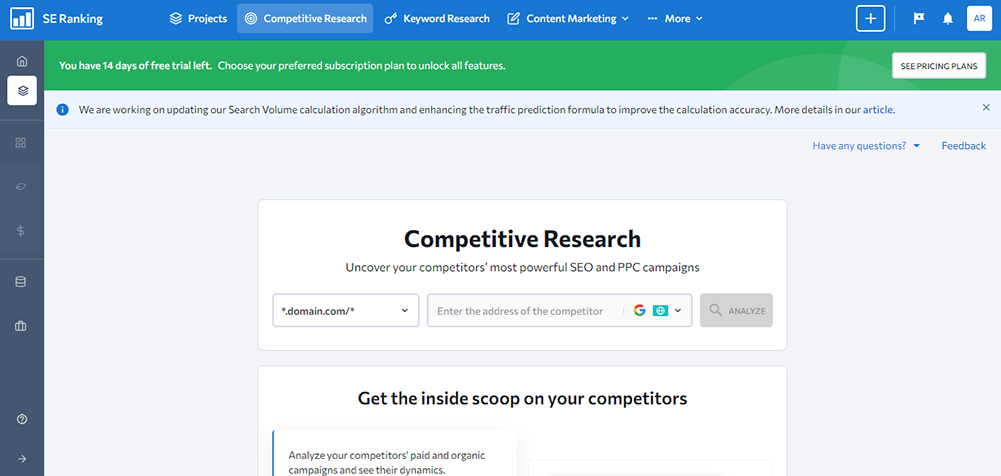 It assesses your sites to give powerful business data. You only need to submit your domain name and it will give a bird's eye view of your competitors' paid and organic marketing tactics.
Here is what it allows you to do:
It gives approximated clicks per month, top-performing competitor keywords, and competitors' traffic cost

Assess the influence of algorithm updates on the website's online presence

Compare the full list of your competitors' keywords and evaluate their search queries against critical organic parameters such as search volume, keyword difficulty, etc

It shows search terms' positions, the approximate cost for each keyword, new and lost keyword statistics, search results overview by country, cost per click, and number of advertisers

Gives the number of backlinks of your competitors and analyzes their quality by providing a list of domains and a monthly overview

Compare maximum 5 websites and identify untouched backlink opportunities to get ahead of your competition

Discover crystal-clear information on backlinks and referring domains, analyze metrics most important for your backlinking plan

Categorize the results using filters and download the report with one tap
Pricing
Essential — $55.0/month: It offers 50 URL/domain checks per day for a maximum of 10 projects.
Pro — $109.00/month: It offers 100 URL/domain checks per day and includes all features of the Essential plan with extended limits.
Business — $239.00/month: It offers 300 URL/domain checks per day and includes all features of the Pro plan with extended limits.
5. SERP Checker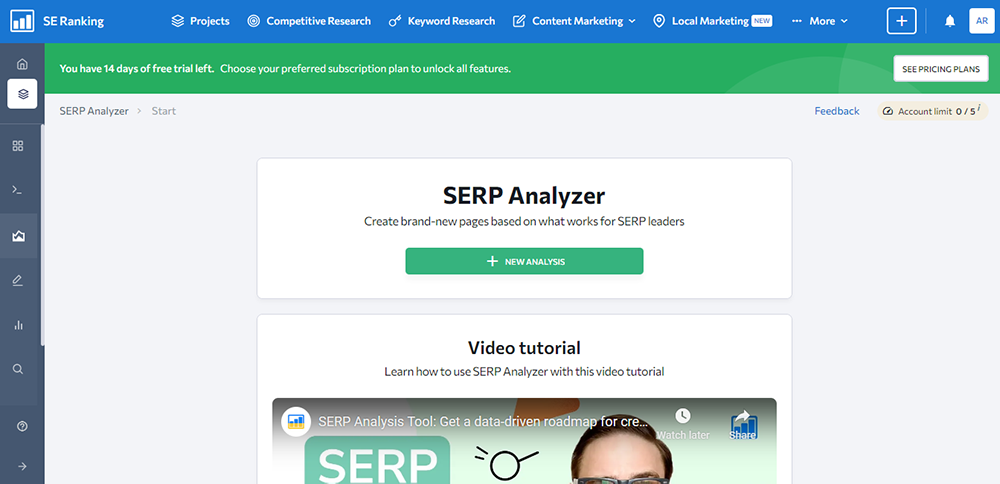 This tool lets users analyze search engine result pages with one click for any search term. You can choose a location and depth of analysis from the top three or top five.
Users and businesses can develop a clever SEO tactic with the SERP analyzer to outperform organic leaders by checking how their competition sites are ranking in search results and stealing an inside view of their strategy.
Here is what it allows you to do:
Unpack the secrets of high-achievers in organic results and figure out what should be done to rank your page at the top

Make new pages depending on what performs in your target search results 

Work out the number of inbound links you require to outrank others in your niche by monitoring off-site parameters

Find how many visitors your website can attract for your target keywords

Tick off sites that you aren't competing against, analyze the maximum top 50 organic results, and obtain data on search terms, inbound links and the number of visitors

Evaluate search results for over 110 off-site and on-site parameters and find out the on-site quality score of every top player

Weigh up your performance against organic competitors for key performance indicators of your choice

Get an easy-to-understand visualization of common competitor trends
6. Backlink Checker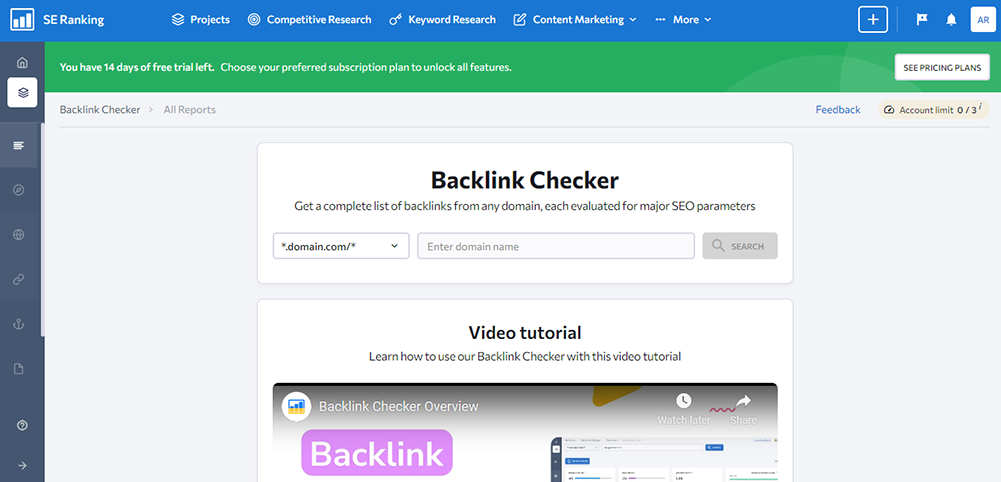 It can assess your backlink role and convert it into useful SEO data. Here is what it allows you to do:
Check domain trust & page trust that displays the possibility of a page or domain ranking in search results

See a list of websites hinting at the assessed URL/domain to detect weaknesses and identify link opportunities

View top anchor texts and their number, active, lost and new backlinks with extra SEO insights 

Analyze a list of URLs categorized by subnets & IPs, and top pages on a site that earns the most inbound links

Use their database of 3 trillion indexed backlinks, 7 billion pages daily crawled and 262 million domains indexed 

Submit a site's name to obtain a full breakdown of every URL leading to  any of its pages so that you can shortlist links to disavow
7. Keyword Suggestion/Grouper Tool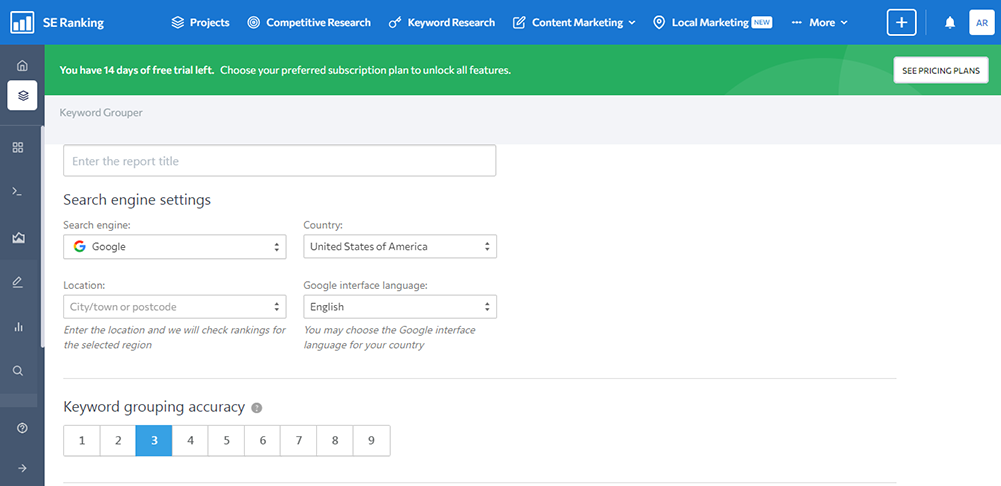 This tool gives you a list of keywords to use in organic and paid search strategies. Here is what it allows you to do:
Spot new search term opportunities, evaluate keyword competition, and deeply assess any keyword

Check key keyword metrics such as difficulty score, search volume and CPC and paid competition

Find the estimated cost per click you may pay in a Google ad campaign. You can view CPC data for other countries to better comprehend a specific keyword's global competitiveness

Work out how challenging it would be to take a page to Google's page one by using a certain search term

Identify the number of monthly organic searches the targeted search term gets on Google. You can also view the search volume dynamics of the recommended search queries, like how the number of searches has modified during the last year

Identify all vital search term parameters and spot the keywords worth targeting

Create a keyword list from scratch for a new site or obtain keyword suggestions to populate your existing search term list

Terms similar to the primary search term usually have the investigated keyword. This tool creates thousands of alternative long-tail keywords with the same meaning

Relevant search terms are linked with the same top-ranking URLs as the primary keyword. The tool gives you the relevance score to show how much the recommended terms go with the seed keyword
Other Tools
Other tools include content editors and content marketing tools to help people create and check marketing content. 
The Backlink Tracking Tool helps users monitor their and competitors' backlink profiles. 
SEO Report Generator lets you create infinite SEO report templates with the correct amount of information for each of your consumers. You can deliver customizable reports manually, or automate their delivery to customers' inboxes.
Lead Generator helps you earn mature leads, increase your email subscribers list and save time gathering SEO data.
API offers programmatic access to the information collected from the SE Ranking platform and helps handle complicated or large accounts more efficiently.
White Label SEO Software lets you tailor the platform and SEO reports to show your brand's identity.
SE Ranking Pricing
This tool offers a 20% discount and free migration, which means you can transfer all your data from your older platform if you purchase any yearly plan.
You can choose a monthly or yearly subscription and one option from the three — essential, pro, and business. You can also customise your plan if you feel none of the three plans fulfils your business's unique needs.
To understand their pricing plans, let's first understand these terms:
Projects: It denotes the number of websites you can assess and monitor using SE Ranking.
User Seats: It denotes the number of people who can open the tool, see particular data, create and modify projects etc.
Competitors Per Project: It denotes the number of competitors you can add to each website you are tracking. It shows the rankings of competitors' sites for the search queries you track in your projects at no additional charge.
Visibility Rating: It is a unique tool available in all plans that calculates the visibility rating of your sites and competitors' websites after studying the search engine result pages for the search term groups you have included in your project.
Visibility Rating displays the number of impressions a site earns in organic SERPs for a certain search query.
SERP Competitors: It is a tool available in all plans that shows the top 100 sites for any keyword added to the project.
Essential — $55.0/month
It is ideal for freelancers and beginners since it allows one user seat, five competitors for each project and a maximum of 10 projects.
Pro — $109.00/month
It is ideal for small agencies and teams since it allows three user seats and ten competitors for each project and unlimited projects. It is the most popular subscription plan.
Business — $239.00/month
It is ideal for mid-sized companies and businesses since it allows five user seats and twenty competitors for each project and unlimited projects.
Bottom Line
It's time to end this exciting expedition through the world of SE Ranking. In a nutshell, this powerhouse SEO software is central to unleashing your site's potential in 2023 and beyond. 
Its incredible features prove why it stands tall as an all-in-one SEO platform for ultimate online success. You may be a savvy entrepreneur or just a startup, SE Ranking empowers you to outrank others in the race, grab untapped opportunities and up your pages' positions in organic search results like never before.
From in-depth keyword research to an easy analysis of SERPs, and from comprehensive website auditing to checking on-page SEO performance, SE Ranking has all that your business needs to skyrocket its online visibility.
FAQs (Frequently Asked Questions)
Q1. What does Backlink Checker in SE Ranking do?
Backlink Checker helps users evaluate the backlinks of any website and develop a tactic according to that. It allows for the analysis of anchor texts, referring domains and top-linked pages. The user can analyze by submitting a domain without subdomains, a domain with subdomains or the exact URL.
Q2. Can you see all the vital data about your brand's locations comprehensively and clearly through SE Ranking?
Yes. Its local marketing tool has a dashboard that lays out all crucial information about your business's locations in simple terms. It lets you assess reviews by quantity and quality, offers data from the last period's reviews and shares reviews by sources and ratings.
Q3. Can you use SE Ranking's Keyword Suggestion tool for free?
Yes. You can generate 10 keyword suggestion reports per day without subscribing to a paid plan. The user could view the web pages positioned among the first ten results and obtain a set number of search terms in reports. 
By signing up for a two-week free trial, you could use all the features of the keyword suggestion tool.
Q4. What does SE Ranking's backlink monitoring software do?
SE Ranking's backlink tracking tool monitors the treasured backlinks you add manually or transfer from its backlink checker or Google Search Console. The tool runs regular metric checks and sends you an email whenever it notices a change.
Q5. What can SE Ranking do for content marketing?
SE Ranking offers content editor and content marketing tools. The content editor uses artificial intelligence to create marketing content for businesses by comparing competitors' content against yours to outperform them. Plus, it enables users to create prompts covering all facets of content development and evaluate blogs for compliance with requirements.