Welcome to the ever-changing landscape of search engine optimization! SEO is a pivotal element of a strong online presence. Luckily, if you have a WordPress website, navigating the fiercely competitive SEO world becomes relatively easy.
According to W3Techs, over 43.2% of all sites on the web are using WordPress in 2023 which has evolved into a CMS with a multitude of themes and plugins. WordPress website owners can perform their SEO using the content management system's plugins or integrate a third-party one.
Let's discuss some of the free SEO plugins for WordPress that you can use in 2023. Without further ado, let's get to it:
BEST FREE SEO WORDPRESS PLUGINS IN 2023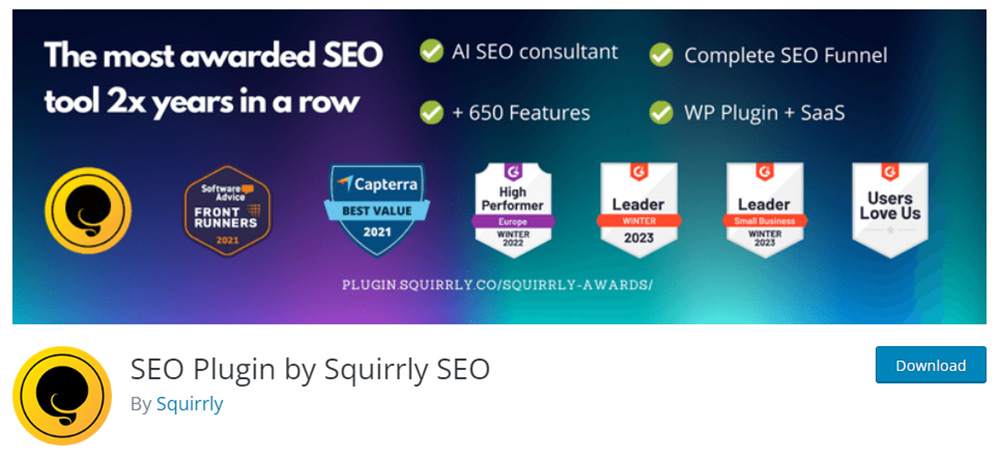 It is one of the SEO tools that can help you step up your website's SEO game. Squirrly SEO WP Plugin is an AI-backed tool with sophisticated features and an intuitive interface. It helps attain higher positions in search engine result pages, boost the number of site visitors and access new buyers.
Features:
Its Focus Pages let site owners emphasize the pages they wish to rank most by listing page-specific jobs

Its AI SEO consultant helps you personalize to-dos for higher visibility along with step-by-step directions on the application

It sends success notifications and achievements that enable SEOs to view and understand their performance

It allows you to explore the best keywords, search volume figures and competitor analysis

It provides instant SEO feedback on your blogs as you write in the WordPress editor and has full control over how your pages show in search results and on social media

It enables you to optimize your pages and posts on your favourite builders such as Classic Editor, Zion, Gutenberg, Oxygen, Elementor, WP Bakery, Divi, Bricks, Thrive Architect and more

It gives in-depth SEO Audits with practical suggestions and performance scores on how to do better

It lets you monitor your ranking performance without hassle with detailed performance metrics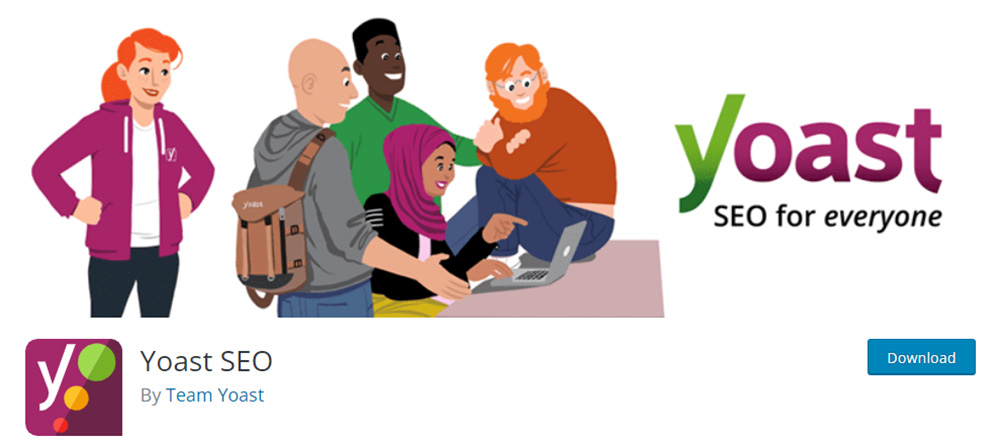 It is one of the most popular free SEO plugins as it's packed with marvellous features that aid webmasters in creating SEO-friendly and readable content. For example, Yoast SEO incorporates a meta box in all your posts and pages which allows you to conveniently set your primary keyword, canonical URLs, meta description etc.
Features:
It enables you to craft excellent content and have a completely optimized website.

It allows you to boost your rankings and drive organic traffic.

It automatically produces XML sitemaps that aid Google in crawling and indexing a site's pages more effectively.

Digital marketers can tailor metadata for each post and page which contributes significantly to search results.

It assists in avoiding copied content problems by placing canonical links to hint at the prioritized version of a page.

It displays which search terms you are using most regularly, allowing you to retain keyword balance.

It has basic schema markup options to improve a site's look in SERPs, particularly for rich snippets.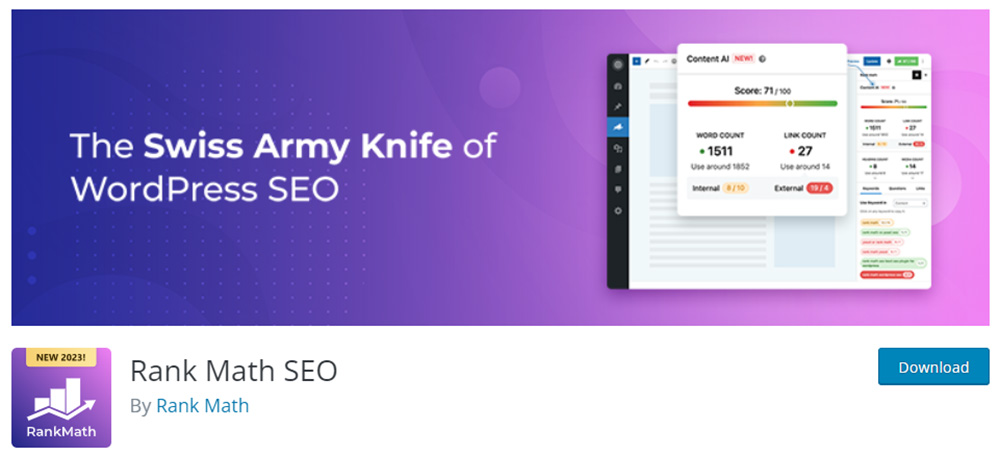 Rank Math is one of the free SEO plugins of 2023 that you can use for your WordPress website. It has gained traction due to its convenient interface and lots of useful features. 
Rank Math has a bunch of smart SEO abilities that marketers did not have access to before. Smart automation offers a business the power of a full-fledged SEO team with only a couple of clicks. 
Features:
It has over 15 pre-built modules SEOs can enable and set up depending on their needs

It allows running an in-depth SEO assessment to recognize problems depending on 30 known factors

It fully supports both the classic editors and WordPress Gutenberg

It gauges and monitors keyword positions to keep tabs on your SEO performance

It allows convenient one-click imports for smooth migrations from other extensions 

It enables you to secure rich snippets with compatibility for more than 20 Schema types including FAQs and HowTo

It essentially configures itself and has a step-by-step installation and configuration system that sets up SEO for WordPress sites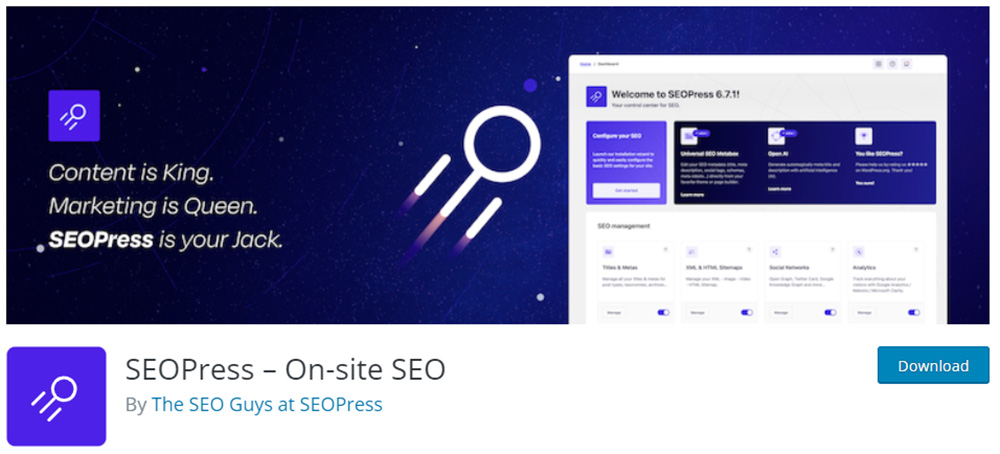 It is another popular free SEO plugin in 2023 that has a default setup to help newbies start using it without hassle. This incredible SEO extension for WordPress provides a diverse array of features for marketers. This lightweight SEO plugin helps businesses optimize their WordPress websites for search engines.
Features:
It helps you set up your WordPress website in minutes using an intuitive installation wizard

It lets you include Metas and Titles with dynamic variables and also handle your meta robot settings

SEOPress incorporates search engine indexing to help Google, Bing, and other search engines index your pages

With this extension, SEOs could have a desktop or mobile preview of your content in search engines 

It offers you the adaptability to integrate your social media profiles into your websites

It enables moving posts and terms metadata from one place to the other

It allows you to export and import settings from one website to the other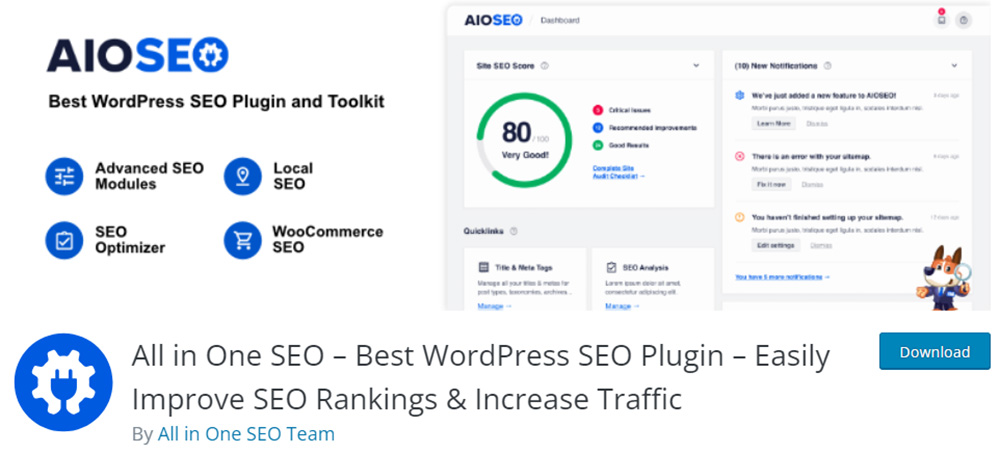 AIOSEO has more than 3 million users and is among the ideal SEO plugins for WordPress available in the market. It assisted millions of brands in selecting the perfect SEO settings by providing a convenient setup wizard.
Features:
All-In-One-SEO enables marketers to tailor and optimize meta tags such as descriptions and titles for your pages, posts and other content

It produces XML sitemaps for your site making it convenient for Google to crawl and index your posts

Schema Markup assists search platforms in comprehending the topic of your blogs better which may improve how your pages show in search results or rich snippets

It lets you install Open Graph metadata for social media sites making sure that your posts are shown perfectly when shared on networks such as Twitter, LinkedIn and Facebook

AIOSEO aids you in determining canonical links to prevent copied content problems and pinpoint the prioritized version of a page

It offers settings that you can tailor for several types of content on your website like pages, posts, products (if you have an e-commerce store) etc

It allows you to refine advanced settings such as nofollow, noindex and other technical components of SEO
BOTTOM LINE
We hope this piece will help you navigate the nitty gritty of SEO in 2023. This collection is your north star to the ideal and most helpful SEO plugins that help to improve your organic rankings without charging a single penny.
As search engines keep finetuning their algorithms and consumer demands evolve, using powerful SEO tactics has become a must for businesses wanting to grow in the digital realm. These extensions can help you rank your WordPress website higher and boost organic traffic.
FAQs (Frequently Asked Questions)
Q1. Should I use an SEO plugin for my WordPress website?
Search engine optimization contributes a lot to getting higher rankings in search results. It's the most helpful and vital tactic to increase your site's discoverability in search results and for this, you need an SEO extension.
Q2. What should I look for when choosing a free SEO plugin for my website?
Here are a few things you should consider when picking a free SEO plugin for your WordPress website:
Convenient to activate and set up

Incorporate fundamental SEO features automatically

Completely mobile responsive 

On-site optimization, meta tag customization, XML sitemaps and schema markup support

Sophisticated features like keyword research tools, content assessment and social media integration
Q3. Why SEOPress is one of the best SEO plugins for beginners?
SEOPress comes with a default setup so that newbies can begin without difficulty. Its convenient installation wizard helps you set up your website instantly.
Q4. Can we use a free SEO plugin for any type of website?
Free SEO plugins work well for most types of sites, but enterprise-level or complicated ones may need advanced extensions with more sophisticated features and support.
Q5. Can a user shift from one SEO plugin to the other if they don't see their desired results?
Yes. You can switch between SEO plugins, but we recommend practising due caution to prevent loss of data or conflicts. Ensure that you stick to the standard practices for extension migration.